Who Are We?
Ventura County Event Medical Standby, LLC (VCEMS) is the largest Special Event Medical Services company located in Ventura County. Based in Simi Valley, California, we provide services to Ventura, Los Angeles, and Santa Barbara Counties, specializing in dispensing the highest quality pre-hospital emergency medical care at competitive sporting events, fairs, concerts, and community events, as well as non-union TV and motion picture film locations.
What We Offer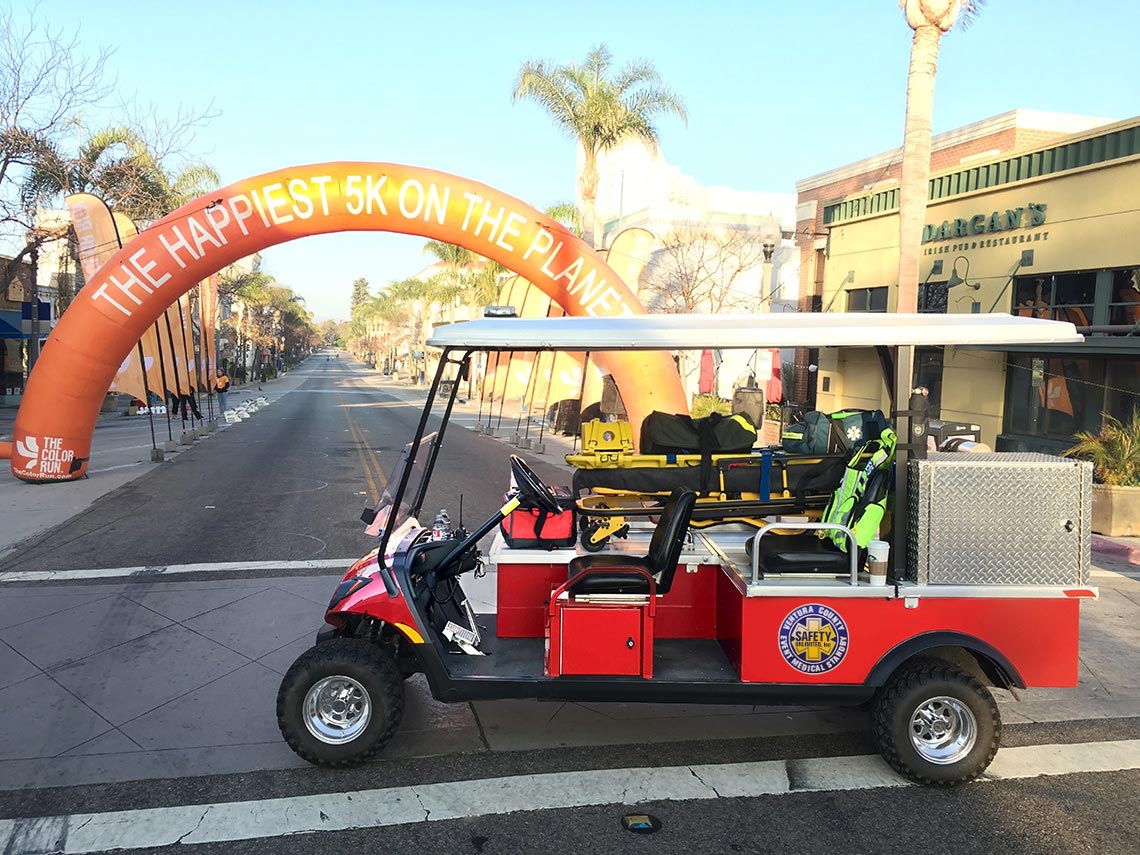 Our state certified Emergency Medical Technicians (EMTs) provide Basic Life Support (BLS), which includes evaluating and treating the ill and injured, obtaining vital signs, performing cardiopulmonary resuscitation (CPR), and using an automated external defibrillator (AED). We also provide patient treatment, such as controlling bleeding, performing spinal immobilization, splinting extremities, traction splinting, and administering oral glucose for diabetic emergencies, to name a few treatments. Our EMTs will be the first line of response should 911 need to be called.
VCEMS is an approved EMT AED Service Provider authorized by the Emergency Medical Services Agency of Ventura County, which allows our EMTs to carry and use AEDs for cardiac emergencies.
Our EMTs come fully equipped to your event, including our Responder Golf Cart if you choose to add this option.
Our History
Ventura County Event Medical Standby, LLC was founded in 2012 by EMT Alexander "Trey" Robertson, IV and Paramedic Mark Komins, and was originally based in Westlake Village, California.
In 2017, Mr. Komins left VCEMS and Christina Robertson took his place as joint owner.
In July 2021, Safety Unlimited, Inc., owned by Jules Griggs, purchased VCEMS from the Robertsons and moved the business to be co-located with Safety Unlimited in Simi Valley, California. As part of a broad training portfolio, Safety Unlimited offers EMS Continuing Education, as well as First Aid and CPR training, via their website at ems.SafetyUnlimited.com. Mr. Komins is the EMS Director for Safety Unlimited and now manages VCEMS.
In 2021, VCEMS moved its website from sidelinemedics.com to EMTStandby.com.